AI and Discord Premium Update
---
Get ready for a big update!
🧙‍♂️ Introducing sesh AI
With our new GPT-powered /ai command, you can simply ask sesh to do what you want in plain English. No need to tab through every command and parameter. It can even run multiple commands at once and fill in the details from context!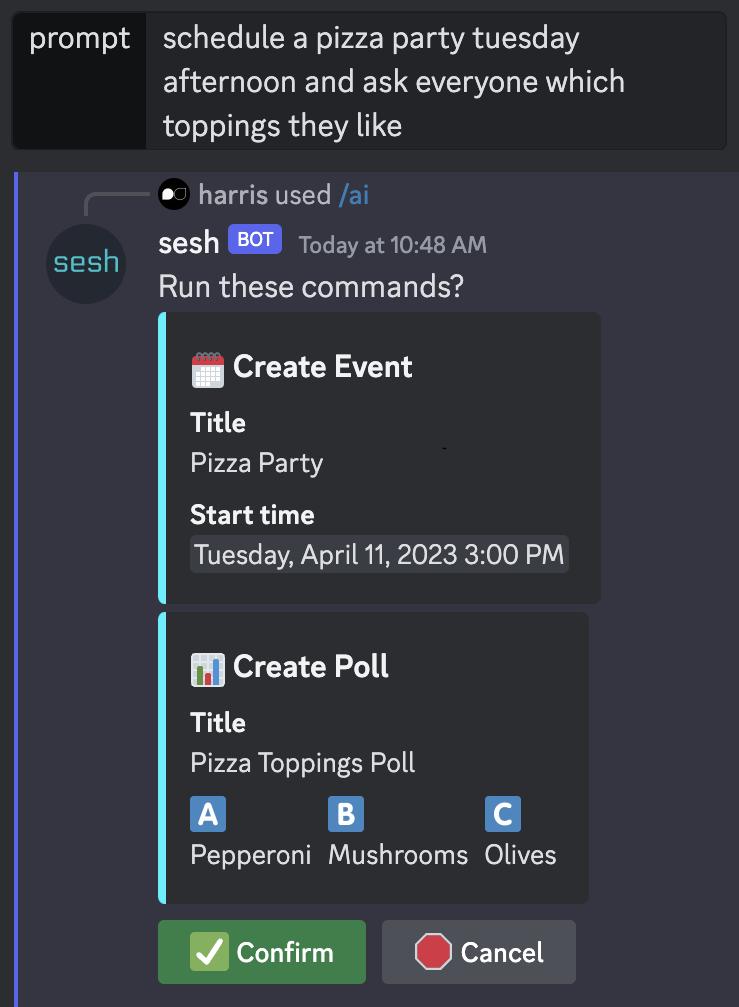 Read on for more details in our latest blog post. Premium members can sign up for the alpha today!
💎 Discord Premium
You can now purchase a premium membership directly through Discord!
Just click on sesh's avatar in Discord and hit the Upgrade button. You can find us in the app directory as well.
Existing premium members do not need to take any action. You can still purchase premium directly on our site, too.
Additional notes
TWEAKS
The permission system is now available to all users (it was previously premium-only)
Significantly improve dashboard performance
BUG FIXES
Fix events or polls failing to send if field length too long
Fix issue deactivating premium if user no longer in server
Fix forum thread title being wrongly edited if event is inside
Fix @everyone not properly tagging people for poll mentions
Fix live list not updating when event is created from GCal
Fixed several GCal sync related bugs related to recurring events and edits